Car school – teacher course
Do you want to become a car school teacher and know, that this is the kind of a job, you would like to do. Pls. read further and get some information about this great and well honoured job.
Car school teacher course – conditions given by law to enter this course:
age – since 24 years
3 years holding the driving licence of that group you want to become a teacher of.
Finished secondary school studies (leaving exam, or finished technical education in a machinery branch such as car mechanic or locksmith) – only if it´s the POP range
Candidate (who wants to become a car school teacher) wasn´t during the last 3 years penalized/punished by a court or by another administrative body resulting in a driving ban
COURSE LENGTH
The course length particularly depends on the candidate for the job of the car school driver. Some candidates are able to successfuly pass the course within a month already. The main thing is, how much effort is shown there. Nevertheless, the average length of the course takes 2 months.
In Nobe car school, the teaching of car school teachers is particularly held in Prague and Ostrava. It´s a rule, that the candidates meet 2x a week in afternoon hours (after work). However, many future teachers have their standard jobs during the preparation, so that there can also be some individual consultations (base on your their time possibilities).
COURSE EXAM – CAR SCHOOL TEACHER

Having no car school or other professionals behind you usually means not being trusted much by the testing committee. The exams consist of 6 partial exams to be passed in front of a special committee of the respective Traffic and Transport authority. One member of this committee is an experienced teacher who will prepare you for the whole period of the course.
EXAM CONTENT:
Tests – standard test to pass in a car school
Oral exam aimed at respective regulations – those are acts and notices connected with a car school operation.
Oral exam aimed at construction and maintenance of a car (certificate)
Oral exam aimed at the knowledge of the Act no. 361/2000, collection of laws
Practical driving (as a pupil)
Practical driving (as a teacher)
After a successful passing the exam, the course leaver of the course for car school teachers gets a professional certificate and title of a master in driving the motor vehicles (look at right)
WHAT SALARY CAN A CAR SCHOOL TEACHER HAVE? CAN HE DO THIS JOB WHILE HAVING ANOTHER PERMANENT JOB?
The salaries vary between 110,- CZK – 170,– CZK per 45 min. Since the teacher alone is the one to agree on driving lessons with his students, he plans his own schedule dependent on his own time and time readiness of his students.
Many car schools make it possible to work base on a work agreement.
If the teacher provides his own car, he becomes more independent on time and can thus get higher salary too. He can also hire his car to the car school and that way cover all costs for an eventual leasing, or can have a passive income from hiring it. Our car school can assure very interesting options of car financing for car school teachers, or can eventually help with this financing.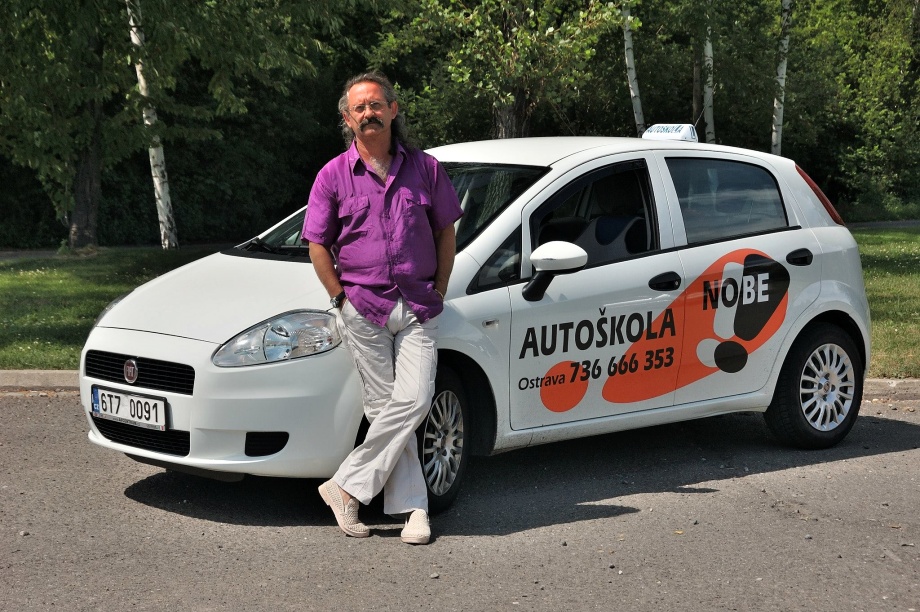 THE EMPLOYMENT OFFICE COVERS ALL COURSE!
The course fee isn´t much cheap. Everyone, even that one, who is not registered in the employment office, is entitled to requalify himself (/herself) at the amount of 50.000,- CZK every 3 years. The administration connected is well-known for us and thus we can be helpful to manage it for you!
The employment office covers the course to its full extent (however, only afer a successful passing the exam), that´s why it is necessary to pay the course fee from your own financial sources and after the successful passing your exam, you will get your course fee at the full amount back.
JOB OF A CAR SCHOOL INSTRUCTOR AND ITS FUTURE:
Having a driving licence "B" is a "mustL these days. "Future drivers get older and we can expect coming of new generations from very strong natality years," says Patrik Nosek, the NOBE car school director.
Only in Ostrava, there are more than 70 car schools, while in Prague even more than 500. However, there aren´t that many good car school teachers, that´s why it may happen, that the car school teachers may drive for more car schools at once.
WHAT DO THE TEACHERS SAY ABOUT THIS JOB? "THE TEACHER NEEDS TO BE LIKE A CHAMELEON A BIT…"
Read an article about the car school teachers who got to this job originally coming from jobs you would not expect to be their original jobs. Comparing the lessons in Prague and Ostrava!
Drahoš Nosek article (co-founder of NOBE and one of our most experienced teachers):
Story of Vladimír Fusek (mulitple holder of the title "car school driver of the year" and NOBE mentor):
The largest and best rated driving school v ČRfor Group B.
Why just Nobe car school? 46 seconds and it´s gonna be obvious (short video with car school owner)!

Do you want to pass the exam at the first attempt?

We prepared for you 5 most frequent and special questions of driving examiners that could eventually be quite dangerous for you. Get acquainted with it and thus heavily increase your success rate.

The candidates will learn how to drive (from A to Z), but there are some mistakes traditionally not accepted by the driving examiners. Learn to avoid it and be successful at your very first attempt.